You made the smart choice of purchasing WeatherTech floor mats. They look amazing, they protect your vehicle's carpet, and spending time in your ride is so much more enjoyable!
But doing their tough job of containing all messes also means that your WeatherTech mats get clogged with mud, salt, sand and anything else you've dragged inside with you. So, when it's time to clean up, how do you get your floor liners looking brand new?
The first thing you need to do is to remove your WeatherTech floor mats. If you haven't done this before, don't worry - it's a quick and simple job. While specific removal instructions could vary depending on your vehicle and floor mat, the general idea is to gently pull at the back of the floor mat to help release its attachment from your vehicle's floor.
Once the floor mat is removed, you can start cleaning. But what should you clean your WeatherTech mat with? You have two options.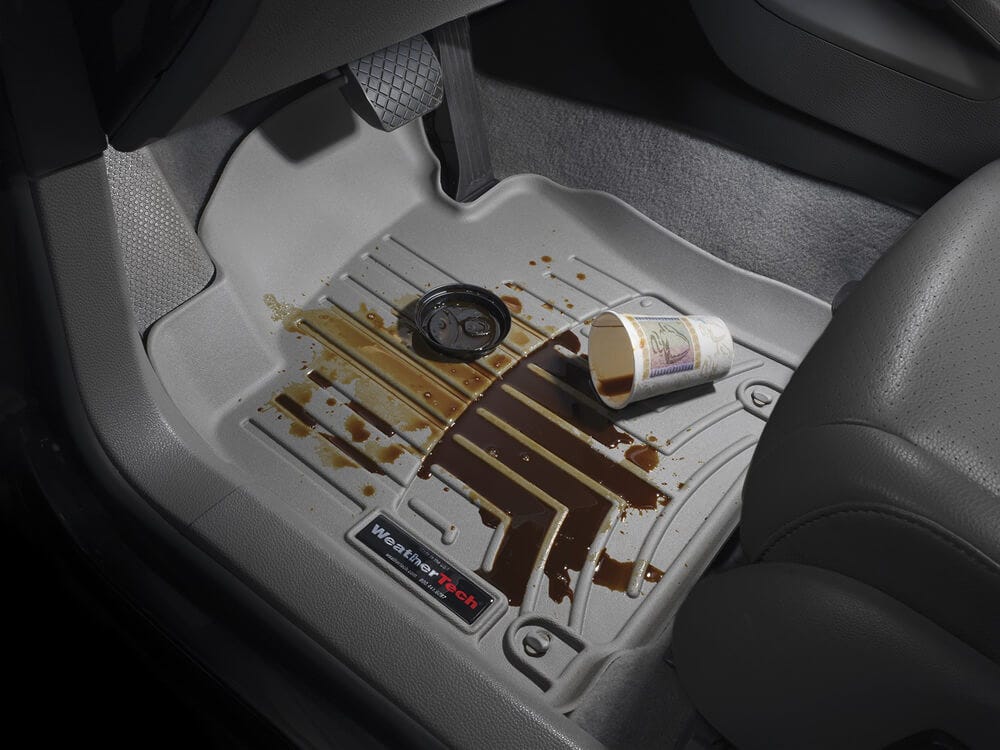 Your first option, and maybe your best option, is to clean your floor liner with WeatherTech's TechCare FloorLiner and FloorMat Cleaner. The cleaner's formula will completely remove any scuff marks, dirt, sand and stains from your mat without risking damage to the mat's finish. It will even dissolve grease stains and oil stains! And since the cleaner contains biodegradable ingredients, you can simply rinse it away when you're done. Quick, simple, and safe.
Your second option is to clean your floor liner with any household's standard cleaning supplies - a bucket of water and some soap. Simply wash down your WeatherTech floor mat with warm water, and scrub away any dirt and stains with a brush and some cleaning detergent. Are you dealing with super tough stains? Using a pressure washer will save you scrubbing time and will get your WeatherTech floor mat looking like new.
Now that your floor mats are clean, how do you correctly put them back in your vehicle?
In most cases, the floor mats were designed to use your vehicle's carpet retention clips. So, securing the floor mats is a quick and simple job. But for a more detailed outline on how to install your WeatherTech floor mats, check out WeatherTech's website (or the instructions that came with your mats).
TDot Performance offers the largest selection of WeatherTech Floor Mats and Liners in Canada. And no one can beat our prices!
Here are some helpful videos: