Enhancing Your Summer Roadtrip with PowerStop Brake Upgrade Kits.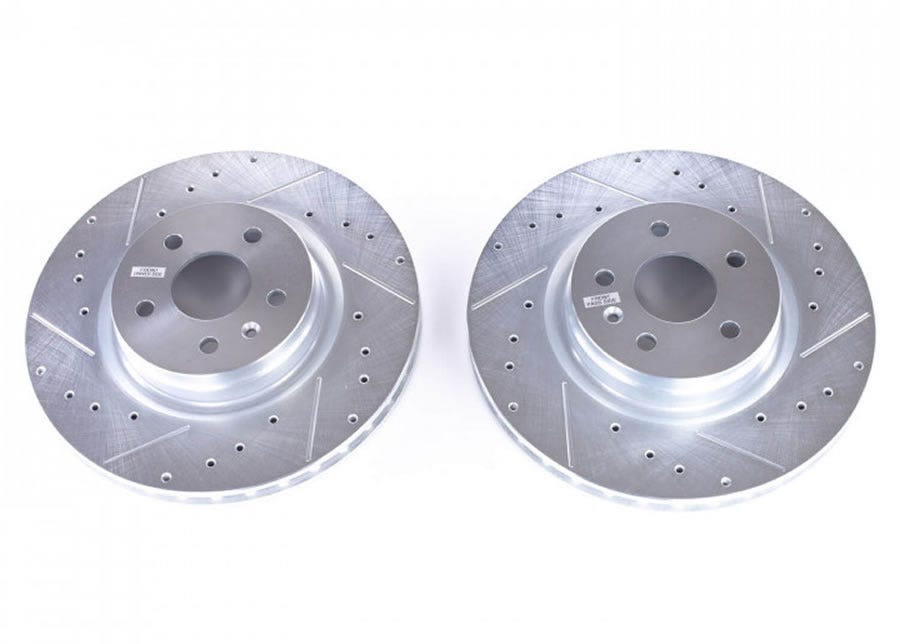 A vehicle's brakes play a crucial role in driving yet a lot of individuals forget to consider their health and efficiency until they start to experience problems. It's especially important to ensure that the brakes are properly maintained during the summer season. Higher than normal ambient temperatures can result in more stress on the brakes when it combines with friction build-up. With road trips and racing events among favorite activities in the summer, people also generally drive more miles during this season. This means that if your brakes aren't tailored for the job, they're going to get worn down quicker during those long hot summer days.
After coming off the winter season, summer would also be an excellent time to inspect and upgrade your braking system. Integrating the proper aftermarket brake components is a sure-fire way to enhance protection and performance when navigating across hot temperatures. If you're looking for upgrades that feature superior materials and OE quality fit, we highly recommend the performance upgrade brake kits of PowerStop.
An Easier and More Precise Braking Quality
The engineers of PowerStop have meticulously designed their brake upgrade kits, which include brake pads, brake rotors, stainless-steel hardware and optional brake calipers, to be the ideal replacement for your current brakes. Their upgrade kits in particular ensure a hassle-free shopping experience that saves you time and effort from having to go back and forth to the parts store. Taking into account the various needs and preferences of different driving personalities, PowerStop's brake upgrade kits are available for a range of vehicles which include trucks, 4x4's, muscle cars, and daily drivers.
With the main objective of ensuring a safer and more comfortable driving experience on the road for all drivers, the company's legacy and credibility are rooted in performance. Their brake products and kits ensure unbeatable results with lower noise, minimal brake fade, and decreased dust buildup compared to OE variants. Here are just some of the most outstanding Powerstop brake upgrade kits to accommodate your driving needs during the summer.
PowerStop Z23 Evolution Sport Brake Upgrade Kits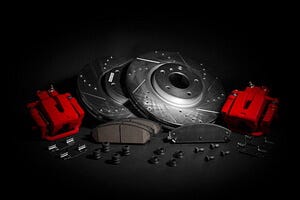 The exceptional Z23 Evolution Sport Brake Upgrade Kit combines high-quality pads, rotors, and robust stainless-steel hardware to establish a smooth bolt-on solution for the daily driver. This comprehensive kit provides cars, trucks, and SUVs with enhanced braking efficiency when commuting during the summer. It integrates carbon-fiber infused ceramic brake pads with a low-dust formula to effectively reduce brake dust and ensure your wheels look consistently clean. The brake pads reliably resist fade during the higher temperatures of summer while their premium shims and powder-coated backing plates ensure a noise-free quality.
This kit incorporates drilled and slotted rotors for improved braking performance. These rotors promote a cooler ride quality while certifying superior corrosion resistance. A highly efficient yet affordable performance upgrade, the Z23 Evolution Sport Brake Upgrade Kit guarantees a safer and more enjoyable experience in everyday drives and summer road trips.
PowerStop Z26 Street Warrior Brake Upgrade Kit
The awe-inspiring Z26 Street Warrior Brake Upgrade Kit is engineered to excel in high-performance and high horsepower applications. To boost the stopping power of muscle cars and performance vehicles, the kit integrates meticulously designed and easy-to-install pads, rotors, and stainless-steel hardware. The carbon-fiber-reinforced ceramic brake pads provide outstanding fade-free braking power for shorter stops and cleaner wheels. The compound offers more stopping power than other leading brands.
The cross-drilled and slotted rotors are manufactured using the finest materials and are silver zinc plated for superior corrosion resistance. They provide the perks of precisely drilled holes for keeping brake temperatures down and slots to sweep away gas and debris. An ideal product for high horsepower vehicles, the PowerStop Z26 Street Warrior brake upgrade kit guarantees a cost-efficient and easy-to-integrate brake solution that delivers a precise performance and a big brake feel.
PowerStop Z36 Truck and Tow Brake Upgrade Kit
As the name implies, the PowerStop Z36 Truck and Tow brake upgrade kit is meticulously designed to efficiently enhance the stopping precision of trucks, 4x4s, and SUVs during elevated summer temperatures. For demanding jobs and unpredictable off-road adventures, this comprehensive brake kit comes with properly matched brake pads and brake rotors along with premium stainless-steel hardware for a hassle-free installation. They incorporate low-dust carbon-fiber-infused ceramic brake pads to ensure superior stoppage power in harsh terrain without compromising drivability. Designed to provide more brake torque for heavy hauling, these brake pads have an increased coefficient of friction than original equipment and superior thermal stability to significantly prevent high-temperature brake fading.
These pads are matched with zinc-plated drilled and slotted rotors that bestow excellent heat dissipation and noise-free braking while sweeping away dust and gas. With brake parts engineered to work together, you can rest assured of an optimized braking experience during long downhill descents and demanding days at the job site. What's more, the brake kit includes everything needed for a quick installation. Give yourself peace of mind during hauling and towing applications by investing in the awesome PowerStop Z36 Truck and Tow brake upgrade kit.
Finish Your Setup with PowerStop's Stylish Red Powder Coated Calipers
PowerStop's outstanding brake upgrade kits may also be purchased with their patented red, powder-coated calipers. These calipers not only guarantee superior corrosion resistance but also a rugged look behind your stock or custom wheels. Meticulously assembled and pressure tested in PowerStop's Chicago facility, these calipers are integrated with high-temp EPDM rubber seals and boots to improve longevity. They feature new bleeder screws, stainless-steel hardware, and quality silicone lubrication for a comprehensive installation.
An Internationally Renowned Manufacturer of Braking Solutions
For more than 25 years, PowerStop has been a fast-growing brand that has consistently set the bar high when it comes to revolutionary brake products. A truly esteemed manufacturer, PowerStop's braking solutions are available online. Optimize your vehicle's stopping prowess for a better experience in the summer season by incorporating the effortless and cost-efficient braking solutions by PowerStop.