Hypertech is a leader in the performance tuning industry. Since its founding in 1985, the company has invested heavily in research and development initiatives. As founder Mark Heffington says, "Our core product is knowledge". In support of this ideal, Hypertech only hires the best electrical, mechanical, and computer science engineers. Hypertech provides vehicle programmers, modules, performance chips, and many other exceptional devices to reprogram your vehicle. If you've decided to elevate engine operation by integrating Hypertech Programmers and Hypertech Performance Chips, TDot Performance is proud to carry a complete lineup of the company's most efficient solutions at the lowest prices in Canada. Our customers enjoy free shipping while paying no customs, duties, or border fees..
WHAT MAKES HYPERTECH TUNERS SO SPECIAL?
Hypertech designed their state-of-the-art Power Programmers to access your vehicle's flash memory and download the Hypertech Power Tuning program directly into the ECU's programmable memory. The latest model, the Hypertech Power Programmer 3 efficiently reprograms your vehicle's computer for top-level performance throughout the entire RPM range. These programmers automatically read your vehicle's engine, drivetrain, and transmission information before precisely and quickly custom tuning your vehicle so you can immediately enjoy its exceptional benefits. Hypertech Tuners are engineered for maximum performance gains. With the advanced technology in Hypertech Tuners, gains of 10 to 20 horsepower are common. Improvements of 3 to 7 tenths of a second in 0 to 100 km/h acceleration tests are also typical.
WHICH HYPERTECH PRODUCT IS RIGHT FOR YOU?
HANDHELD PERFORMANCE TUNERS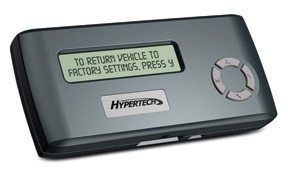 Speedometer Calibrator
The Hypertech Speedometer Calibrator is regarded as the company's most economical solution. This tuner is designed for consumers that want the speedometer recalibration functions of the Max Energy Programmer without paying for additional tuning features they don't need. When do you need to recalibrate your speedometer/odometer? If you've recently purchased new tires for your vehicle that are either larger or smaller than the original tires or if you have installed a new ring and pinion gear set with a different rear gear ratio, then your speedometer/odometer may not be displaying an accurate speed or distance readings.
Max Energy E-CON
The Hypertech Max Energy E-CON is designed for the driver that wants two things from his vehicle: more power and better fuel economy. This tuner gives you just that, and nothing else. Despite its limited functionality, this tuner is still programmed with Hypertech's premium Max Energy Tuning software. The Max Energy E-CON tuner is perfect for vehicles running on regular-grade gasoline.
Max Energy
The Max Energy tuner is Hypertech's most popular and fully functional portable tuner. It is outfitted with Hypertech's renowned Max Energy Tuning software. It has all the functionality of the Speedometer Calibrator and Max Energy E-CON, plus a whole slew of other features not present in those tuners, such as an automatic transmission adjuster, a top-speed limiter, an RPM "Rev" limiter, and a cooling fan temperature controller. With the Hypertech Max Energy Programmer, the end result is quicker acceleration, improved shifting, and better fuel economy. These programmers are designed to capitalize on every energy from a fuel molecule for more efficient engine operation and optimized driving performance.
PERFORMANCE AUTOMOTIVE COMPUTERS
HyperPAC
The HyperPAC is the world's first Performance Automotive Computer. The HyperPAC comes packed with all the features of the Max Energy performance tuner, as well as a few key additions. The HyperPAC includes drag strip monitoring features, a dynamometer for performance testing, an advanced gauge display, and advanced diagnostics functionality. Despite not being a traditional "handheld" tuner, the HyperPAC still comes in a remarkably small form factor (not much larger than a GPS unit). The HyperPAC sports an easy-to-use touchscreen user interface designed for optimal usability.
HYPERTECH IN CANADA
TDot Performance is an authorized Canadian retailer of all Hypertech products. Regardless of whether you try to find Hypertech in Montreal or Toronto, Hypertech Performance Chips and Programmers are available countrywide and shipped free to anywhere in Canada. There's no need to pay any customs, duties, or border fees and our customers are covered by the full manufacturer's warranty. Furthermore, we guarantee the lowest prices of Hypertech Products in all of Canada. Our specialists are standing by to help answer any questions, just give us a call at 1-800-276-7566!